Methanol/Formaldehyde Poisoning From Aspartame Harms
Art Courtesy of deesIllustration.com
See on Scoop.it – Far Out News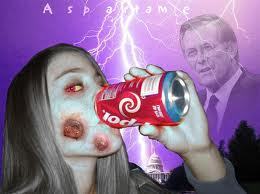 Methanol/Formaldehyde Poisoning From Aspartame is real and there are independent scientific studies to prove it!!
Scott Teeters's insight:
Aspartame has been controversial since its introduction. Yet is is still offered in more and more foods even in many foods for children. Shouldn't we all be aware of the scientific facts about this poison?
"The methanol from aspartame is converted to formaldehyde and then formic acid (DHHS 1993, Liesivuori 1991). Chronic formaldehyde exposure at *very* low doses has been shown to cause immune system and neurological damage and changes as well as headaches, general poor health, permanent genetic damage, and a number of other serious health problems (Fujimaki 1992, John 1994, Liu 1993, Main 1983, Molhave 1986, National Research Council 1981, Shaham 1996, Srivastava 1992, Vojdani 1992, Wantke 1996)."

See on www.holisticmed.com
Support Us! Subscribe to Our YouTube Channel!