The Topsy-Turvy Logic of America's Food Cops
See on Scoop.it – Far Out News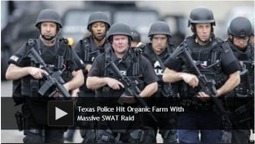 Mass-produced CAFO food is becoming more dangerous than ever, yet US authorities seem obsessed with destroying small farmers and distributors of raw and organic foods.
Scott Teeters's insight:
Why can't we as American citizens be assured of safe natural food without swat teams attacking innocent farmers?
"The USDA has ended a ban on Chinese chicken imports to the US by authorizing four Chinese plants to process chickens that were slaughtered elsewhere. There will be no USDA inspectors on hand at the plants to verify the origin of the slaughtered chickens or to enforce US standards. There is no labeling requirement, so consumers in the US will have no way to know which chicken products were processed (that is, cooked) in China or what their origins were…."

See on www.anh-usa.org
Support Us! Subscribe to Our YouTube Channel!